Welcome to the Grover Cleveland Birthplace Memorial Association
Thursday, October 1st, 2015 was our 175-Year Anniversary!!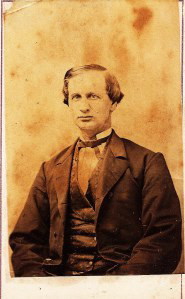 On October 1st of 1840 Phebe Maria Crane was given a little book as a gift from Reverend Richard Cleveland as a thank you for rescuing his three-year-old son, Grover Cleveland, from danger. Phebe had unhesitatingly raced to the aid of Grover to quickly lift him from the path of an oncoming farm wagon. The wagon was pulled by a pair of oxen on what we now call Bloomfield Avenue. When Phebe opened the book, inside of its front cover, she found a personal note written to her from the very grateful pastor. Did the near-tragedy occur ON October 1st? Or did it occur a few days earlier? We may never know, but it is certain that it happened during apple cider season. To find out why we know, schedule a tour of the Birthplace museum.
And while you're at the museum, check out the permanent exhibit which includes a copy of Reverend Cleveland's note!) Here's to Caldwell's "19th Century First Responder," Phebe Maria Crane! What a great example for all of us to follow. -sf 2015
PS – Phebe's childhood home is still standing. It is located across from the West Caldwell Public Library.
Email us with any questions, and be sure to Like us on Facebook.