The Grover Cleveland Birthplace 4th of July Ice Cream Social is Back!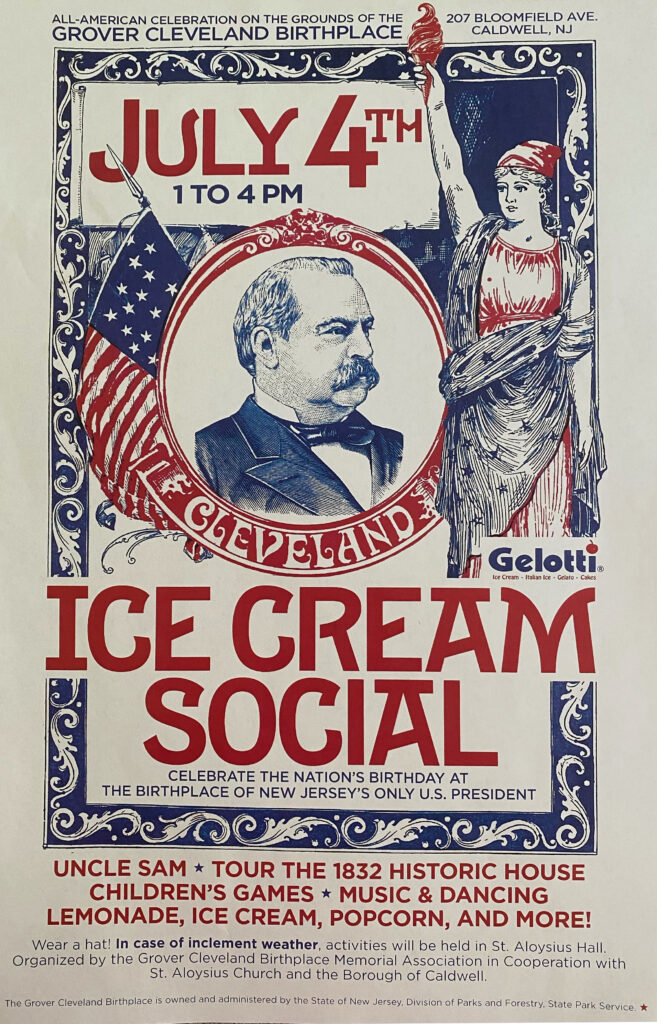 The Grover Cleveland Birthplace Memorial Association is pleased to announce the return of the Grover Cleveland Birthplace 4th of July Ice Cream Social after a two year absence. The event will be a fun filled celebration with Ice Cream (from Guerriero Gelato, Caldwell), birthplace tours, food (from Cloverleaf Tavern), a magician, a clown, a flea circus, a D.J., free lemonade, and a visit from "Grover Cleveland" himself. "Hands on" activities include demonstrations from our " Educator Traveling Trunks" and talks about the origins of basketball, frisbee, the "Presidential First Pitch", and the "Army/Navy Game". The opening ceremony and reading of the Declaration of Independence will begin at 1:00 p.m to be followed by activities until 4:00 p.m. The birthplace grounds are located at 207 Bloomfield Avenue, Caldwell. Parking is available at the adjoining St. Aloysius Church parking lot and the rain site will be in the St. Aloysius Church gymnasium.
For this year, the GCBMA is especially excited to have some of the activities in the new Visitor's Center. Local historians Richard and Linda Gibbs will have their Caldwell and West Essex postcards and pictures collection on display and will be on hand for questions and comments. The Grover Cleveland Birthplace Museum Store will be opened for purchases inside the facility. There will also be three 15 minute historical lectures (from local historians) at the center. At 1:30, Frank Gerard Godlewski will be presenting "African American History from the Grover Cleveland Birthplace and Presidential Library". The talk will discuss Frederick Douglass' role and the local Howe Family who were bequeathed a part of Crane's Mill in 1836. For 2:30, James Gardner will make a presentation about "Old Bloomfield Avenue and Caldwell". For the 3:30 presentation, Paul Maloney as "Benjamin Franklin" will discuss Dr. Franklin's role with the Declaration of Independence, the U.S. Constitution, and his role with Anti-Slavery in his later years.
For bakers, there is a cookie bake-off with prizes. This year's cookie is the lemon cookie.. The rules are simple, each entry must be made using a recipe from the 19th century using ingredients available in that period and must be accompanied by two copies of the recipe. The recipes are being gathered and will be published with the past winners recipes in a special Grover Cleveland Cookie Book. Two dozen cookies are necessary for the judges to sample and cookies and entry forms must be presented before 1:30 on July 4th at the Birthplace. Forms can be found at the Grover Cleveland Birthplace website or at the Birthplace during open hours.
Donations from Foodtown, Shop-Rite, and the Caldwell Kiwanis Club are helping make the afternoon possible. We are in need of adult and teen volunteers for the afternoon. For specific details about the event, please contact Paul Maloney at EssexNewsMaloney@aol.com.