History of the Birthplace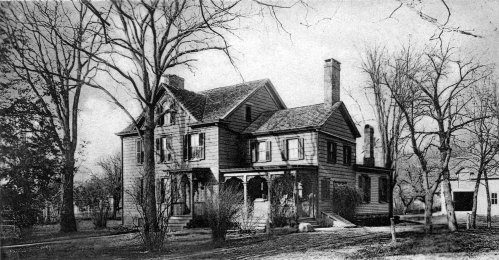 Cleveland's father, the Reverend Richard Falley Cleveland, was the minister here from 1834-1841. Originally, this frame house had a two-story main section with a one-story kitchen to the east and a one-story lean-to at the rear. It was enlarged several times between 1848-1870 to meet the growing needs of the Presbyterian clergy. The house is a good example of local vernacular architecture.
Most of the first floor rooms portray the Manse as it was in 1837, the year Grover Cleveland was born. The decidedly middle-class character of the rooms reflect the day to day life of Reverend Richard Cleveland and his family. Among the artifacts on display from Cleveland's early years are his cradle and original family portraits.
Contrasting sharply with the humble beginnings portrayed in these rooms, the exhibit gallery features a striking display of artifacts that reflect the financial and political success Cleveland achieved during the last quarter of the 19th century. Here, the mud-slinging campaign of 1884, the public's intense interest in his wife and children, and America's political climate throughout his split terms of office are explored.
The Grover Cleveland Birthplace State Historic Site is the only house museum in the country dedicated to the interpretation of President Cleveland's life. It is the nation's leading repository of Cleveland artifacts and political memorabilia. The Grover Cleveland Birthplace is listed on the New Jersey and National Registers of Historic Places.