President Cleveland's Biography
Stephen Grover Cleveland was born on March 18th, 1837 to Reverend Richard Cleveland and his wife Ann.
Named for the first ordained pastor of the First Presbyterian Church at Caldwell, he would in time become known by his middle name, Grover Cleveland was raised in a strict, modest home. As a son of a minister and the fifth of nine children, he had a religious and principled upbringing with few luxuries.
When Grover was 4, Reverend Cleveland moved his family to Fayetteville, NY. There Grover attended local schools and was described by many as "chuck full of fun." He enjoyed outdoor sports, especially fishing. He prepared to enter Hamilton College, but his father's death in 1853 forever changed these plans. Instead of attending college, Cleveland, at age 16, went to work to help support his mother and siblings.
Needing a more substantial income, he traveled west in 1855. He stopped in Buffalo, NY, assumed a position with his uncle and later clerked for a local law firm. In 1859, Cleveland was admitted to the bar, fulfilling long-held goal of becoming a lawyer.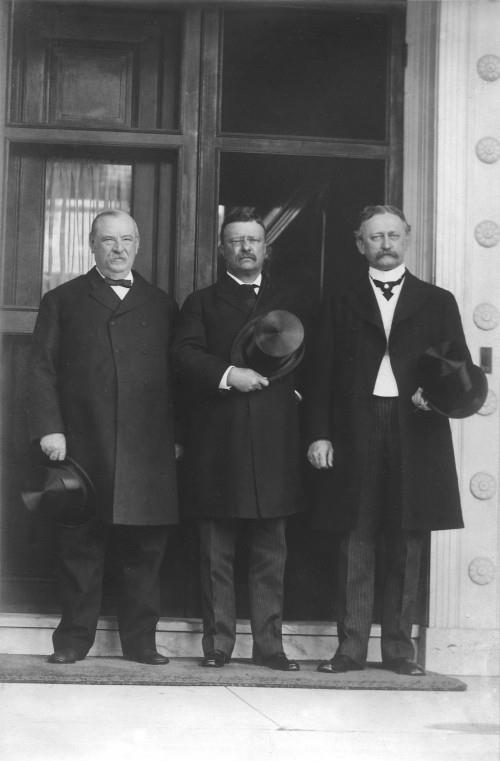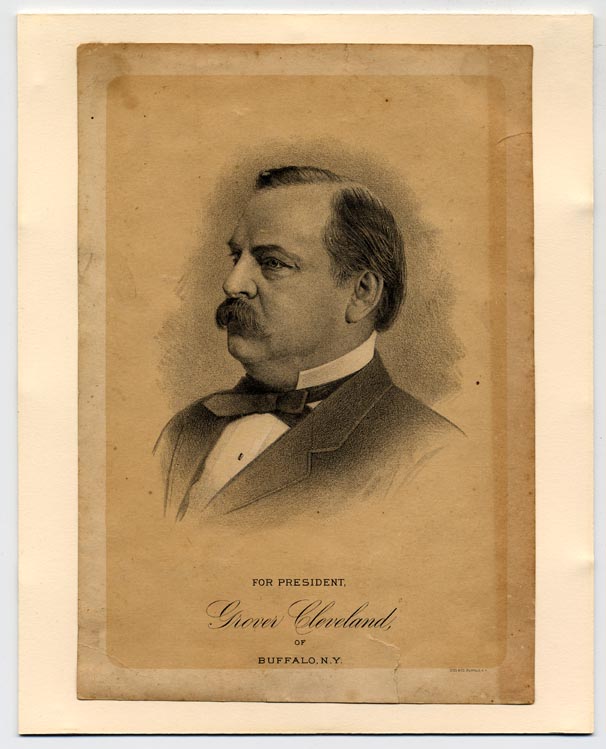 Cleveland remained in Buffalo where he practiced law and held the posts of Election Ward Supervisor, Assistant District Attorney, Sheriff of Erie County, and finally Mayor. His political fortunes continued to climb as he rose from Mayor of Buffalo (1882), to Governor of New York (1883), to President of the United States (1885) in a mere three and a half years.
Throughout his political career, Cleveland became known for his honesty, fairness and nonpartisanship. As mayor, he vetoed a resolution that would have permitted unscrupulous awarding of city contracts. As governor, he vetoed a politically popular public transportation fare decrease and refused political spoils to party officials in Tammany Hall, headquarters of the Democratic Party in New York City.
His presidency was no less contentious. He was a strong reformer and defender of anti-imperialism, tariff reform and the gold standard. He vetoed fraudulent pension claims by Civil War veterans, stating, "I have considered the pension list of the republic a role of honor".
He also signed the Interstate Commerce Act, creating the nation's first regulatory agency and established the United States Department of Labor. The latter provided a means of arbitration in the often-violent labor disputes that arose during the late 19th century.
Although Cleveland won the popular vote in his 1888 re-election bid, he lost the electoral vote. He ran again in 1892 and won, becoming the only president to serve two non-consecutive terms. He would also be the only Democrat elected president between 1861 and 1912.
During his second term in office, Cleveland repealed the Sherman Silver Purchase Act, puting the nation back on the gold standard. He facilitated the resolution between Great Britain and Venezuela and between Spain and Cuba, thus averting conflict and protecting American interests. He also employed the military during the 1894 Pullman Palace Car employee strike in order to maintain civil order and ensure continued rail transportation of goods and services, including the delivery of U.S. mail. "If it takes the entire army and navy of the United States to deliver a postcard in Chicago," he thundered, "that card will be delivered".
This unwavering forthrightness often created enemies in both political parties and among special interest groups. Yet, Cleveland was undeterred. It was this very steadfast, but resilient approach to life that would define him both as a man and as a president.
In 1897 Grover Cleveland retired to Princeton, NJ. During these twilight years, he served as a trustee of Princeton University from 1901 to 1908 and actively worked to reform the country's insurance industry.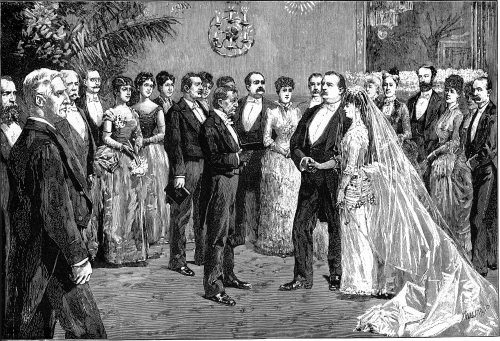 Grover Cleveland was a bachelor when he assumed the presidency in 1885. One year later he made history by becoming the first president to marry in the White House. On Wednesday, June 2, 1886, he took Frances Clara Folsom as his bride.
The ceremony was held in the Blue Room. Frances, 27 years his junior, was the daughter of Cleveland's law firm partner. Educated at Wells College, she was a popular First Lady. The Clevelands were a close and affectionate couple whose relationship was also characterized by mutual respect. Cleveland once wrote of his wife, "I have in her something better than the Presidency for life." The Clevelands had five children, three girls and two boys. Their first born, Ruth, had a candy bar named after her. Their second child, Esther, was the first baby of a president to be born in the White House. Third daughter Marion was born in 1895. Sons Richard and Francis were born in 1897 and 1903, respectively. As a family, they enjoyed the outdoors spending their summers in Massachusetts and later New Hampshire.
Grover Cleveland died on June 24th, 1908 and is buried in the Princeton Cemetery. His wife, his daughter Ruth and his wife's parents are buried alongside him. Among Cleveland's final words was the statement, "I have tried so hard to do right." His personal and political legacy remains a testament to the constancy of this deep-seated conviction.