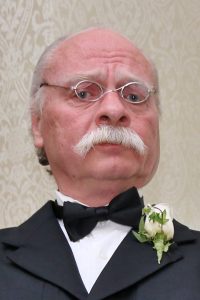 Article Submitted by Jessica Levin
Experiential Fundraiser Features Celebrity Chef and The Montclair Orchestra
August 10, 2018 – Caldwell, New Jersey — The Grover Cleveland Birthplace Memorial Association and The Montclair Orchestra are pleased to invite the public to an interactive and opulent ball celebrating the 1883 Inauguration of President Grover Cleveland at the Upper Montclair Women's Club in Upper Montclair, New Jersey on Saturday, November 10th, 2018 at 6:30pm.
Designed to be an immersive experience, the black-tie affair pays tribute to the life and accomplishments of New Jersey's only native-born President, Grover Cleveland. All money raised will go to increase awareness of Cleveland's birthplace located in Caldwell, New Jersey and his historical significance.
Playing the President during the reenactment of the inauguration will be his grandson, George Cleveland and playing Vice President Adlai Stevenson, will be his great-grandson, US Ambassador Thomas Robertson IV.  John Elliott of CBS Morning News along with former White House pastry chef to five presidents, Chef Roland Mesnier will serve as Masters of Ceremonies.  Mesnier's appearance will include a book signing, the sharing of humorous stories about his life and time in our nation's presidential residence.
A formal and upscale gathering, guests will take part in an enchanting and historical evening complete with dinner and dancing to the music of the Montclair Orchestra, directed by David Chan, the Concertmaster of the Metropolitan Opera.  An exhibition of historic memorabilia from the Grover Cleveland Birthplace will be on display highlighting various elements of the President's early life. Transporting attendees back in time will be a display of elegant ballgowns and formal men's attire including a gorgeous1890's gown, courtesy of the Morris Museum.  The evening's cuisine will feature delicacies reminiscent of the time Cleveland was in office.
Inaugural Gala Chair, Alice W. Gibson notes "It's important to remember history and teach the next generation about the past. We are fortunate to have a presidential birthplace in our state; fundraisers like this support its mission. We've planned an evening that will feel like you are stepping back into a moment in time and I am personally very excited to witness this historic event."
To relive the romance of the late 19th Century, guests may purchase tickets for $300 per person and $500 for Patrons, who will receive a copy of Chef Mesnier's book and preferred ballroom seating.  Sponsorship opportunities are also available and all proceeds benefit the Grover Cleveland Birthplace and The Montclair Orchestra. To purchase tickets or for more information, Click Here or contact 973-226-0001.
About The Grover Cleveland Birthplace Memorial Association
The Grover Cleveland Birthplace Memorial Association (GCBMA) is a conservancy and advocacy group dedicated to preserving the home and legacy of President Cleveland, the only U.S. President born in New Jersey. Through volunteer-based initiatives, our goal is to increase awareness and support of the Grover Cleveland birthplace and its heritage. The GCBMA activities include fundraising in support of educational programs and lectures, interpretation and preservation of the birthplace and its collection of historic objects, and history-themed social activities which engage the public. Working in partnership with the State of New Jersey, we look forward to implementation of our plan to build a Visitor Center on site, providing state of the art space for educational and programming activities, as well as to display historically significant artifacts and exhibitions related to Grover Cleveland and his Presidency.
About the Montclair Orchestra
The Montclair Orchestra is a unique training orchestra that offers fellowship playing positions to students from some of the most recognizable music schools in the world, including The Juilliard School, Cali School of Music, Mannes School of Music, Manhattan School of Music, and Mason-Gross School for the Arts. Playing alongside the student fellows are professional 'mentors', including some of the world's best orchestral musicians. Players from the Metropolitan Opera Orchestra, New York Philharmonic, New Jersey Symphony Orchestra, Orpheus Chamber Orchestra, Orchestra of St Luke's, and other NYC-area orchestras play alongside the student fellows for an unforgettable experience for both musicians and audience. Leading the orchestra in its second season is Music Director David Chan, the concertmaster for the prestigious Metropolitan Opera Orchestra.