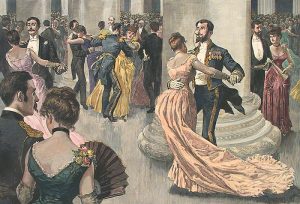 Description
Relive the romance of the late 19th Century with the Grover Cleveland Birthplace Memorial Association and The Montclair Orchestra on Saturday, November 10th, 2018 at 6:30pm for an interactive and opulent ball celebrating the 1893 Inauguration of President Grover Cleveland at the Upper Montclair Women's Club in Montclair, New Jersey.
Designed to be an immersive experience, the black-tie affair pays tribute to the life and accomplishments of New Jersey's only native-born President, Grover Cleveland. All money raised will go to increase awareness of Cleveland's birthplace located in Caldwell, New Jersey and his historical significance.
A formal and upscale gathering, guests will take part in an enchanting and historical evening complete with dinner and dancing to the music of the Montclair Orchestra, directed by David Chan, the Concertmaster of the Metropolitan Opera. An exhibition of historic memorabilia from the Grover Cleveland Birthplace will be on display highlighting various elements of the President's early life. The evening's cuisine will feature delicacies reminiscent of the time Cleveland was in office.
Playing the President during the reenactment of the inauguration will be his grandson, George Cleveland and playing Vice President Adlai Stevenson, will be his great-grandson, US Ambassador Thomas Robertson IV. Miss New Jersey, Jaime Gialloreto, will play the First Lady, Frances Folsom Cleveland.
John Elliott of CBS Morning News along with former White House pastry chef to five presidents, Chef Roland Mesnier will serve as Masters of Ceremonies. Mesnier's appearance will include a book signing, the sharing of humorous stories about his life and time in our nation's presidential residence.
Location
The Women's Club of Upper Montclair
200 Cooper Avenue
Upper Montclair, NJ 07043
Tickets are $300 per person and $500 for Patrons, who will receive a copy of Chef Mesnier's book and preferred ballroom seating.  Price of tickets is tax deductible.
Sponsorship opportunities are also available and all proceeds benefit the Grover Cleveland Birthplace. For more information contact 973-226-0001.