On behalf of the Grover Cleveland Birthplace Memorial Association (GCBMA), I am sorry to report that due to this Coronavirus outbreak, all scheduled events for "President Grover Cleveland Week" have, for the time being, been cancelled.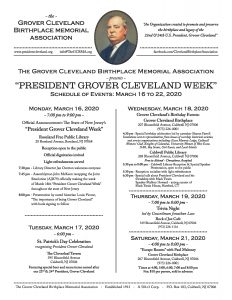 To Download the Schedule –

Click Here
More Information on Escape Room and how to make reservations
As part of the March 2020 Grover Cleveland Week, the Grover Cleveland Birthplace Memorial Association is proud to hold a "Mini Escape Room for Families" at the birthplace (207 Bloomfield Avenue) on Saturday March 21st.  Participants will take part in a 30 minute mystery, "What Happened to Grover Cleveland?" where they must solve a mystery about Cleveland in order to "escape" from the birthplace. Each "escape mystery" will start at 4:00, 5:00, 6:00, 7:00, and 8:00 p.m., will be 30 minutes in length, and will be limited to 15 participants for each session.  The "escape mystery" is geared for families 8 and up and will have a lot of "mini mysteries" in addition to the main escape activity. Each participant will receive a prize. Tickets are $10.00/person and will be available Wednesday March 11th.
Reservations for tickets can be made by leaving a message with Paul Maloney at EssexNewsMaloney@aol.com.  (Please leave your name, telephone number, the time you want to participate, (4:00, 5:00, 6:00, 7:00, or 8:00) and the number of reservations you request.
Payment will be required at the scheduled time on March 21st. You will be emailed a confirmation upon acknowledgement of your request.)