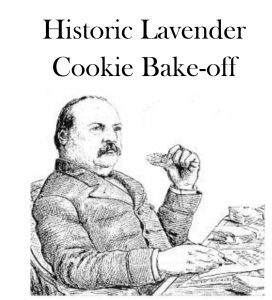 Once again the Fourth of July Ice Cream Social at the Grover Cleveland Birthplace will feature an Historic Cookie Bake-off. This year's cookie is the Lavender Cookie in honor of our cookie loving native son, President Grover Cleveland. Start looking through family recipes, old cookbooks or historical food sites to find your own Lavender Cookie recipe
Lavender Cookie Bake-off Rules:
Entries must be from scratch. No mixes permitted;
Only one entry per person;
By entering this contest, you give permission to the Grover Cleveland Birthplace Memorial Association to use your recipe for distribution and, if not under copyright, publication;
No entry fee;
Entries must include 2 dozen cookies: one for judging and one for sale. Please use disposable plate and cover;
Entries must include entry form (inside) and a copy of the recipe, typed or written legibly;
Entries cannot require refrigeration;
Judging criteria: Most Attractive Cookie: 50% for Appearance, 30% for Taste, 20% for Use of Traditional Ingredients; All other categories: 80% for Taste; 20% for Use of Traditional Ingredients. Avoid 20th/21st century ingredients such as Baking Powder, vegetable shortening, margarine, etc.;
Decision of Judges will be final (Judges are volunteers);
Entry must be received by 1:00 pm, July 4, 2019 at the Grover Cleveland Birthplace, 207 Bloomfield Ave, Caldwell, NJ. Winner need not be present;
Entries must be cookies and can be a shaped, rolled, or dropped. Items such as breads, cupcakes, etc. won't be accepted.
2019 Ice Cream Social –  Lavender Cookie Bake-off – entry form
Name:           __________________________________________________________________________________
Address:          __________________________________________________________________________________
Phone:       __________________________ Email:          _______________________________________________
Any personal history of your recipe you would like to share:  _________________________________
_________________________________________________________________________________________________
_________________________________________________________________________________________________
 Download Rules and Entry form  –

Click Here